April 2023 Product Update 🚀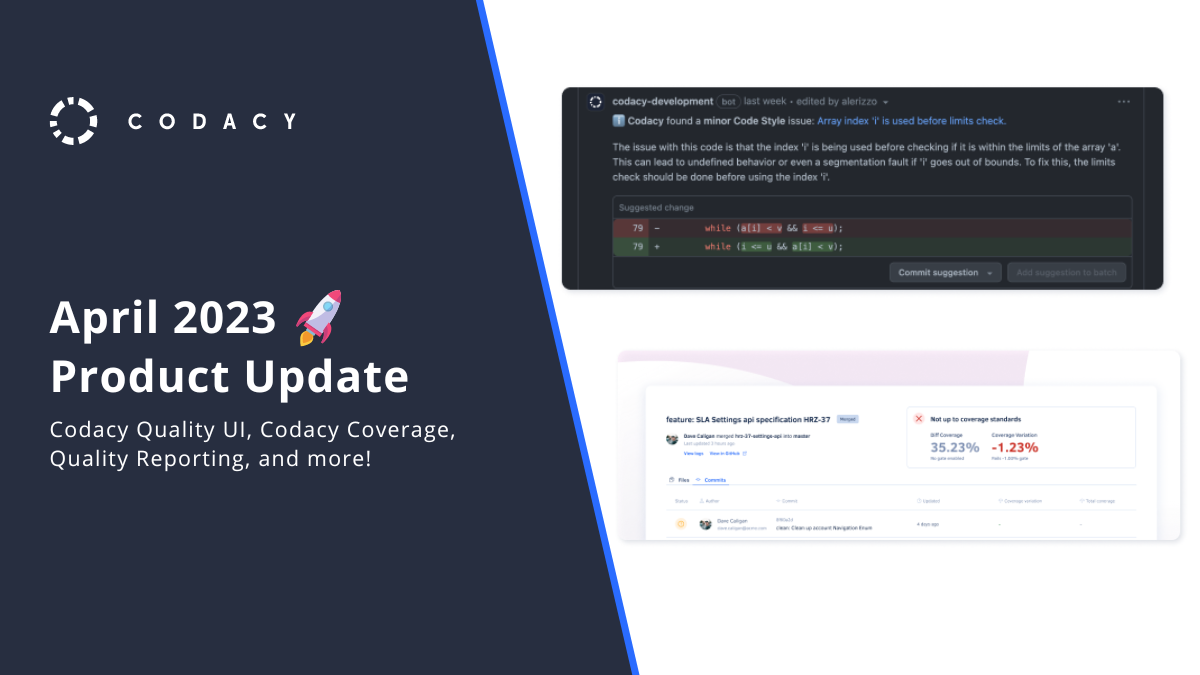 Hi there 👋
It's been a whirlwind month, and we have big news to share:
Keep reading to discover the whole story.
If you have any comments, questions, or suggestions, email us at product@codacy.com or contact your Customer Success Manager.
We'll be happy to talk with you!
The Codacy Team
Codacy Quality AI is now in private beta
Automatic Fixing for Every. Single. Issue.

We are proud to introduce a revolutionary new feature: Quality AI. This innovative addition will change how you address and fix code issues by automatically suggesting corrections for issues identified by any linter.
With Quality AI, we're streamlining the process and enhancing the workflow by offering suggested fixes directly within your Git provider.
We're offering priority access to Quality AI to our loyal customers through private beta testing, available immediately. Start experiencing the future of software development today.
Codacy Coverage is going live in July
Keep your Code Coverage high.

We're introducing Codacy Coverage, an all-in-one solution for monitoring, enforcing, and improving code coverage across your organization.
Hundreds of our customers rely on code coverage as a code quality heuristic. We are adding more sophistication to how we deal with code coverage based on extensive customer feedback.
Starting in July, you will have full access to Codacy Coverage in addition to the full Codacy Quality suite.
We're taking Reporting to the next level
To help you and your team make the most out of Codacy

We are improving Codacy Quality Reporting by sharing additional critical data with you and your team.
We aim to give you more visibility on your code quality performance, so you can better understand where you stand and share some recommendations on improving your code.
We are starting with the fundamental questions:
How many Repositories is Codacy reviewing?
How many repositories are active?
How many issues your team found? How many of them got fixed?
What was the severity of those issues?
What are your repositories grades?
We have more insights in the works, so stay tuned! In the meantime, join our Reporting mailing list to start getting these reports.
---
Take a look at our upcoming events!
Save your spot!
Security vulnerabilities are constantly being discovered. This means that companies need to constantly scan for new vulnerabilities and patch them as soon as possible. In this webinar, we'll discuss:
Why identifying Security issues is just a first step and what comes next
How can SLA tracking help engineering managers prioritize work on Security issues?
Best practices to "shift-left" resolution of critical Security issues and to engage developers
We have launched Streamlined Access to Repositories for Codacy Quality users. With this new feature, you can access repos much faster, without having to navigate through a long list of repositories leads, among other improvements.
How is this done, and what's changed? Join the live demo and connect with our Product Manager Amha Bekele!
---
What have we been reading lately?
"Setting Performance Goals for Low, Mid, and High Performing Engineers" by Laura Tacho
"The problem of long-lived pull requests" by David Saltares
"What's next in DevSecOps" by GitLab
---
Give feedback on our Roadmap
We'd like to continue sharing our roadmap with you ✨ You can see what's in progress and what's up next. You can also submit an idea/feature request and vote on what is most important! Your feedback matters 💪