March 2022 Product Update 🚀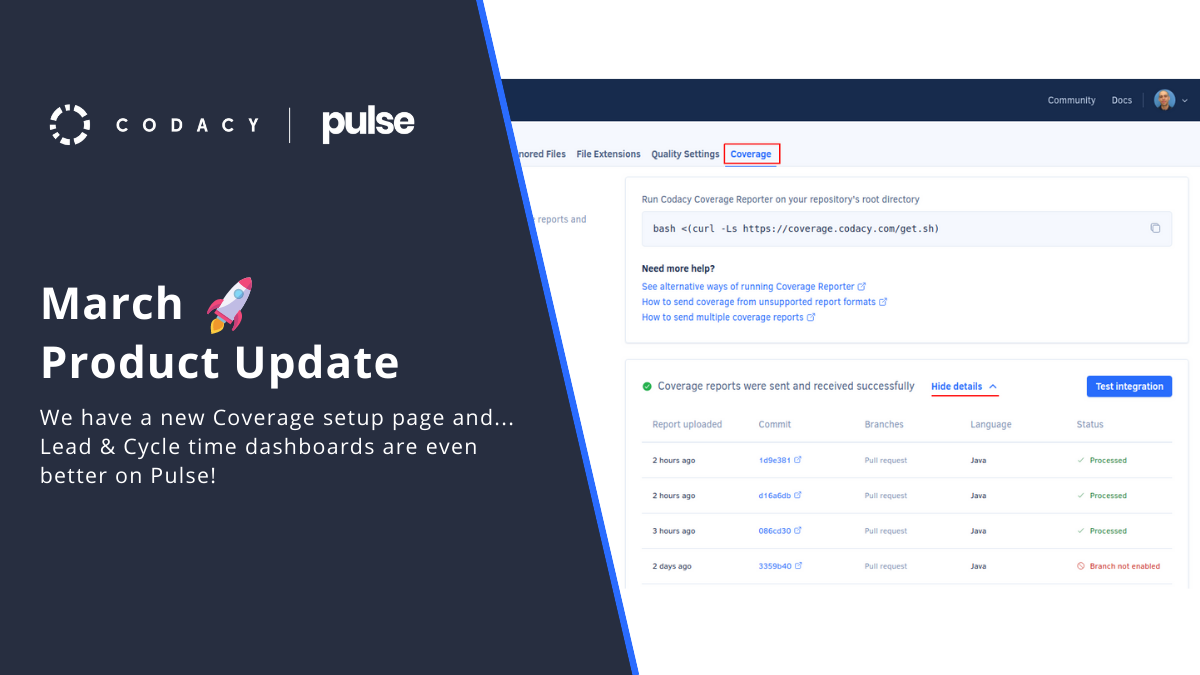 Hi there 👋,
For those in the Northern Hemisphere, it's time to welcome Spring! 🌿 Your code is beautiful, but don't forget to smell the flowers and have some time away from the computer screen.
Here are some product updates from March, with exciting new features at Codacy and Pulse!
New coverage setup page 🧑‍🎨
We know the coverage setup was not ideal: it was somewhat hidden and it did not give you enough information.
Well, we've listened to you! We've been working on improving the setup of coverage, and we moved the code coverage setup page under the repository Settings, tab Coverage.
Here's what it means for you:
A better experience setting up coverage;
Guides on how to set up your environment and upload your coverage reports;
A list of the most recent coverage reports uploaded to Codacy and their status, to help you troubleshoot your coverage setup.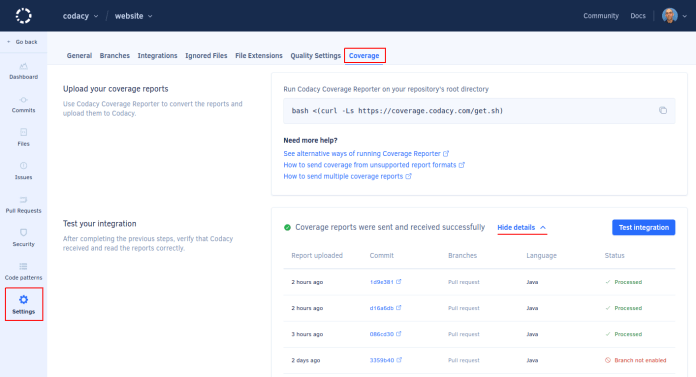 Share dashboards on Pulse 📊
Pulse's mission is to support the continuous improvement of your Engineering teams with data-driven insights. We're now taking a step further into the team aspect by adding the possibility of sharing dashboards.
After adjusting the dashboards to a certain time period and filtering by your teams or repositories, you can share the filtered dashboards, exactly as you see them, with other teammates.
Note: It does not give access to people that don't belong to your organization.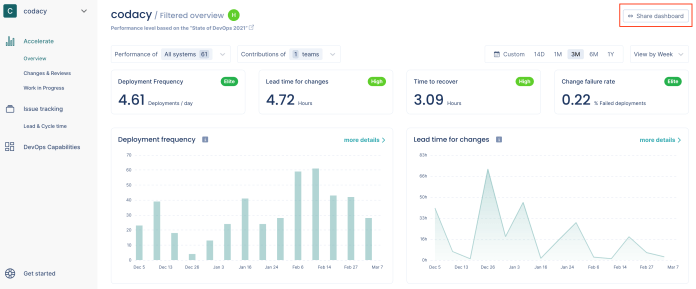 Lead & Cycle time dashboards are now even better on Pulse 🎉
After launching the new Lead & Cycle time dashboard, we made improvements to make insights from the charts more immediate.
We're introducing:
Showing Lead & Cycle time averages for the selected period;
Getting a better visual representation of the relationship between Lead & Cycle time;
Making it easier to view and understand outliers by adding Percentiles.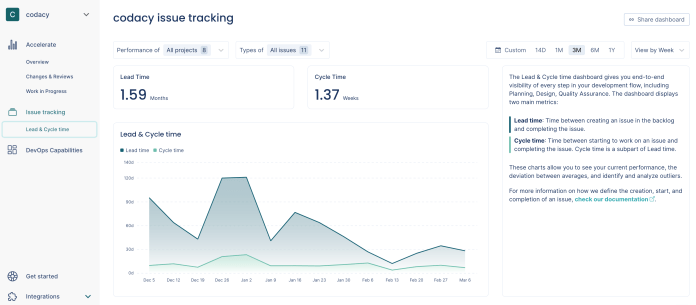 ---
Careers at Codacy: We're Hiring 🤩
We're hiring for our Engineering (Backend, Frontend, SRE), Customer Success, and Product Teams. All remote positions – join us from anywhere in Europe and help us do awesome things! Check our current openings.
---
Interesting reads
Webinar: How to boost your Engineering Speed & Quality with the Right Metrics 📊
We did a webinar! You can (re)watch it, learn about the highlights, read all the questions that we got from the audience and our answers, check out the key slides, and more. Check it out →
Tips for writing clean code ✨
"I know that sometimes it's faster to write messy and unorganized code. After all, the code works, and that's the whole point, no?! But when your code is easy to read, it is easier to make changes, saving you and your team a lot of time in the long run." Keep reading here →
"You can't review every Pull Request. Do these 7 things instead" by Curtis Einsmann 👨‍💻
Sometimes, it's simply not possible to review every single PR. So what can you do instead? One of the things you can do it so integrate automated static code analysis tools (yes, like Codacy!) Find out the other 6 →
"A playbook for calm incident response" by David Saltares 📖
What do you do when a major software incident happens? Your system is on fire and your team needs to fix it as soon as possible. In a stressful time like this, it's useful to have an incident playbook, to help your team resolve the issue faster. Read the post →
---
Community
We are almost 500 members in our community! 🚀
Your support and feedback are very important to us, and we look forward to keep growing and learning with you. Thank you all 🙌 👫

---
Give feedback on our Roadmap
We'd like to continue sharing our roadmap with you ✨ You can see what's in progress, and what's up next. You can also submit an idea/feature request and vote on what is most important! Your feedback matters 💪
---
If you think this content is relevant to you we would be extremely happy to send it over to you every single month. Feel free to subscribe below and welcome on board! ⛵