November Product Update 🚀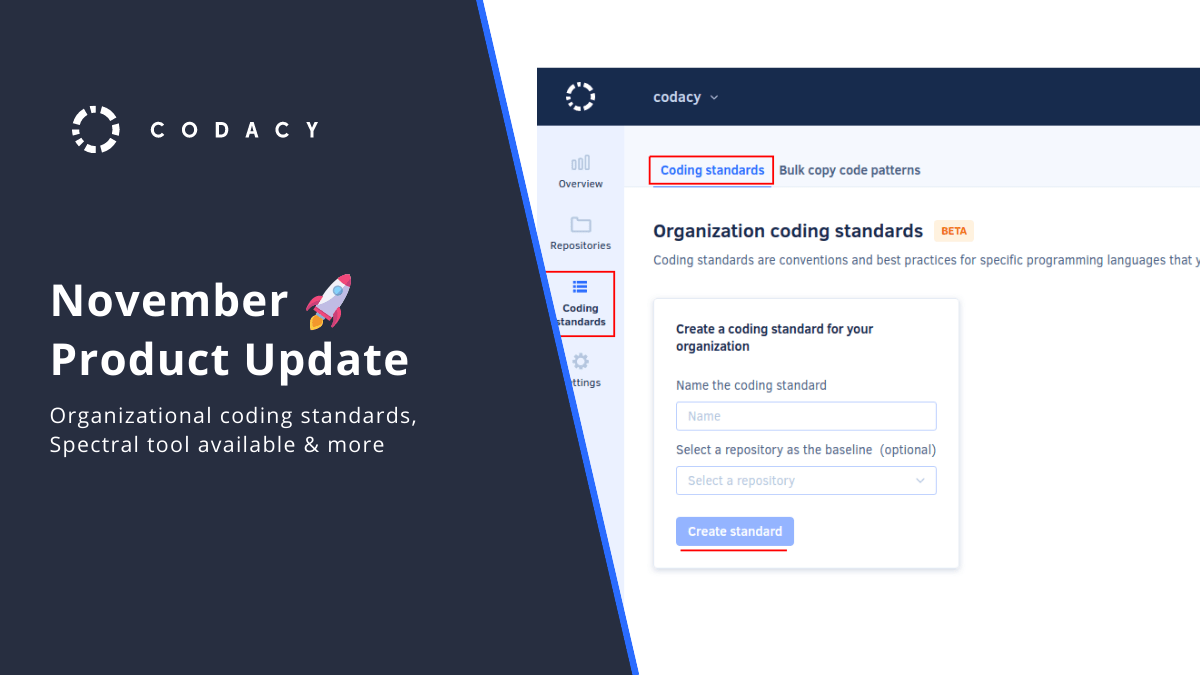 Hi there 👋,
Can you believe we are almost in 2022? But there is still time: use the days we still have to make your best code yet! ✨
Here you have the exciting product updates from November.
Organizational coding standard: Beta version is now live 🙌
Admins can now set an organization coding standard in Codacy! With this new feature, it will be much easier to define and manage coding patterns in multiple repositories simultaneously. Check out the blog article with real use-cases, including an explainer video from Harry from our Success Team.
Keep in mind that in the current beta version you can only create one coding standard per organization, but we'll add the ability to create multiple coding standards soon.
New tool: Spectral is available 🤓
We just released a new tool! A subset of Spectral is now available from your tools list, adding a new set of functions to help create custom rules in your code. And it gets better: you can also add a configuration file! Check out the list of all supported languages and tools.
Leave a note when providing feedback on documentation ✍️
Our docs are here to help you. But sometimes things are obvious to us – because we looked at them so many times – but they're not so obvious for everyone else… So now you can send us your feedback about the docs directly from the documentation page! Help us continue to improve the docs, to serve you better 🚀
Have you tried Pulse yet? 😍
Pulse is currently in an Open Beta! We'd love for you to try it (no-commitment), and let us know what you think. Our mission is to support the continuous improvement of your engineering teams with data-driven insights on how to deliver quality faster.
---
Careers at Codacy: We're Hiring 🤩
We're hiring for our Engineering (Backend, Frontend, QA, SRE), Customer Sucess, Sales, and Product Teams. All remote positions – join us from anywhere in Europe and help us do awesome things! Check our current openings.
---
Interesting reads
22 software development trends for 2022 🔮
What does 2022 have in store for the rapidly changing software world? We looked at the data and here are 22 software development trends for 2022. Check them out →
Faces of open-source 😊
Ever wondered who are the faces behind the development and advancement of the open-source revolution? From the internet to OS and programming languages, put a face to a name. Find them here →
"Strategies For Small, Focused Pull Requests" by Steve Hicks 👨‍💻
How can you do smaller and focused pull requests, when you're building a large feature? Steve Hicks gives some advice on how you can achieve it. Read the post →
"Product-Led Growth: The New Paradigm in Software Selling" by James Wood 📖
"Product-led growth, or PLG, is a term you've probably heard a lot about recently – but what is it? The first things that probably come to mind are "freemium," "free trial," or "self-service selling," and those are definitely important elements of the PLG toolkit – but PLG is also much broader." Keep reading here →
---
Community
We are more than 350 members in our community! 🚀
Your support and feedback are very important to us, and we look forward to keep growing and learning with you. Thank you all 🙌 👫
---
Give feedback on our Roadmap
We'd like to continue sharing our roadmap with you ✨ You can see what's in progress, and what's up next. You can also submit an idea/feature request and vote on what is most important! Your feedback matters 💪
---
Would you like to receive our monthly newsletter?
If you think this content is relevant to you we would be extremely happy to send it over to you every single month. Feel free to subscribe below and welcome on board! ⛵