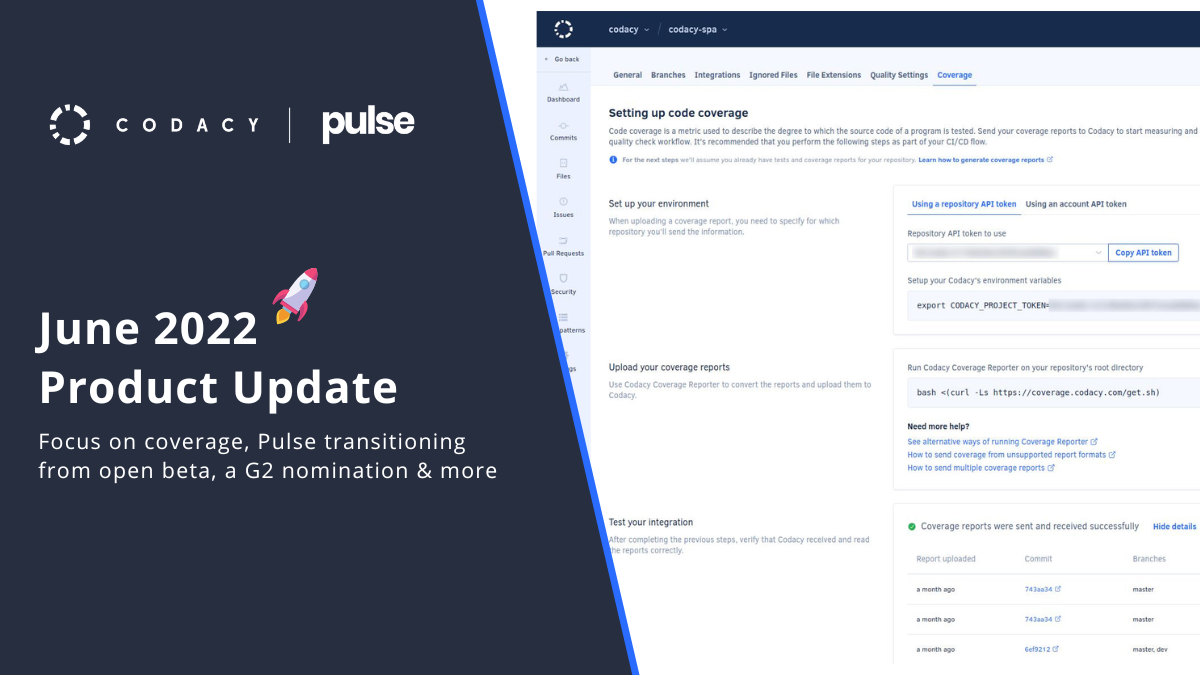 Hi there 👋,
Your friends here at Codacy wish you a wonderful week. If you're on holiday already, we hope you make the most out of your time 🌴.
Here are a few updates from June. There's a new webinar that you don't want to miss, so keep on reading!
Provide more info about coverage errors
We know we need to provide more information about coverage errors so you can act on them quickly. At the moment we have a coverage setup page that is not providing the best experience for you.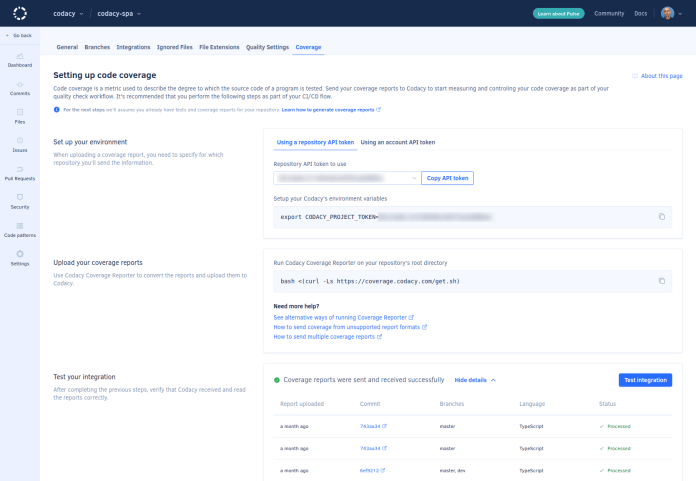 Well, we heard you. This is one of our priorities at the moment and we would like you to know we have our product squads working on a solution to give you better visibility of coverage errors.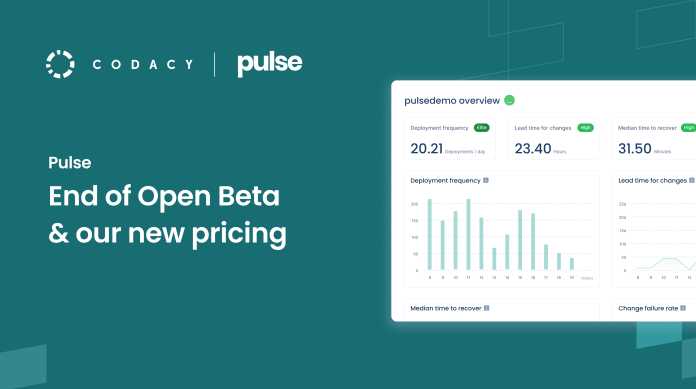 It's official 🎉 Pulse is transitioning from Open Beta into a paid product on July 5th, 2022!
We've been humbled by the reception and adoption of our product. Therefore, introducing pricing to Pulse will allow us to sustainably serve our close to 1000 customers and to be accountable for providing you with a reliable and valuable service. Read the details here.
G2 has nominated Codacy a High Performer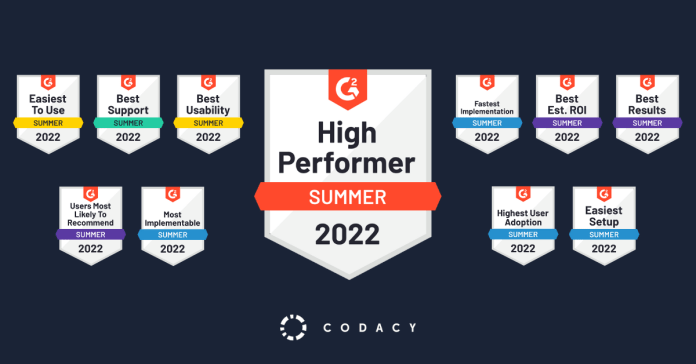 We are proud to be featured in the G2 Summer 2022 reports and receive all these badges. We also want to highlight that we ranked 1st in the Static Code Analysis Usability and Implementation Index. This is due to the fact that Codacy is one of the easiest to implement and start using tools in the industry.
Live talk: When technical debt gets in the way of growth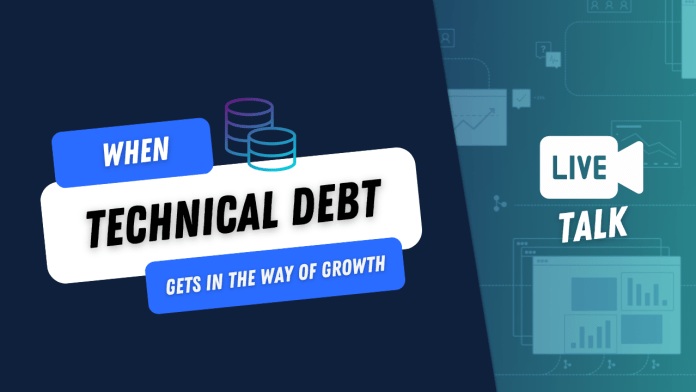 We had a live talk together with the guest speakers Tim Cochran and Carl Nygard, Technical Director and Technical Principal at Thoughtworks.
In case you missed the talk, don't worry, you can (re)watch the recording here. Short on time? Check out the highlights from the talk in our blog.
Next Webinar: This is how we accelerate with quality engineering with Antoine Craske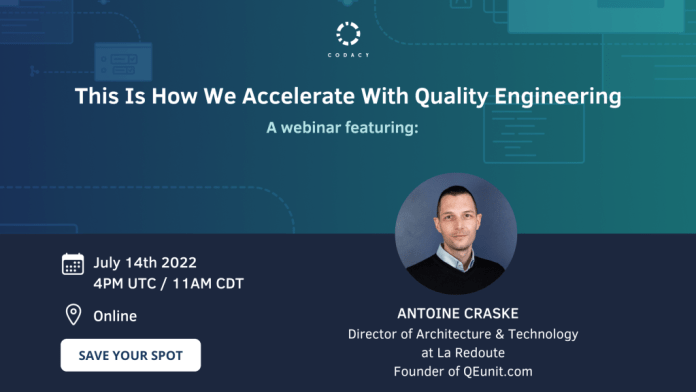 Join our guest speaker to hear about how he improved and accelerated software delivery at the international retailer La Redoute.
---
Careers at Codacy: We're Hiring 🤩
We're hiring for our Engineering (Backend, Frontend, SRE), Customer Success, Product, Marketing, Support, Finance, and People Teams. All remote positions – join us from anywhere in Europe and help us do awesome things! Check our current openings.
---
Interesting reads
Accelerate book summary and key findings 📖
Do you know that culture and technical practices have an impact on software delivery performance, and both are measurable? We've gathered this and other key findings from the Accelerate book on outcome-based engineering analytics and improving software delivery performance. Check them out →
"How to measure software delivery using DORA metrics", by Continuous Delivery 🧑‍💻
Are you still not sure what are DORA metrics and why should you use them? Learn how these metrics can help you measure the quality of your work so that you can build better software faster. Watch the video →
"Planning a software feature", by Anthony Atkinson ✨
"An engineer's job — as opposed to a developer — often comes down to the ability to plan things purposefully and to break things into their parts. (…) Here we'll explore how to systematically (pun intended) break apart a new feature with the goal of creating a blueprint of what needs to be built that plays well with the system as a whole." Keep reading here →
Stack Overflow Developer Survey 2022 📊
In May 2022, Stack Overflow conducted its annual survey and collected replies from over 70 000 developers on how they learn and level up, which tools and technologies they're using, how they're working, and what they want. Read the report →
---
Community
We are more than 500 members in our community! 🚀
Your support and feedback are very important to us, and we look forward to keep growing and learning with you. Thank you all 🙌 👫

---
Give feedback on our Roadmap
We'd like to continue sharing our roadmap with you ✨ You can see what's in progress, and what's up next. You can also submit an idea/feature request and vote on what is most important! Your feedback matters 💪
---
If you think this content is relevant to you we would be extremely happy to send it over to you every single month. Feel free to subscribe below and welcome on board! ⛵